OEM 4.0
The Fourth Industrial Revolution is transforming manufacturing. While some businesses respond to these developments with fears of a disruptive change, others can foresee the huge potential for profits in the use of data, artificial intelligence and the industrial internet of things. The future of manufacturing thus is not about high-risk cost cutting that compromises on the quality of equipment and staff, but in the use of data modelling to predict equipment behaviour, saving millions in repair costs and unplanned downtime.
95 percent of companies investing in predictive maintenance report concrete results.
The benefits of these innovations are available especially to the visionary industry leaders who invest in them ahead of their competition. As high as 95 percent of companies that invested in predictive maintenance have reported concrete results such as cost savings, longer equipment life, lower risks and higher uptime, research shows. With many others seeing the value of big data, time is running out for manufacturers to make the move and claim the early bird advantage.
Original equipment manufacturers (OEMs) can demonstrate innovative leadership and set themselves apart from their competitors by using Asset Performance Management solutions to enrich their products, provide better diagnostics, and develop new income model.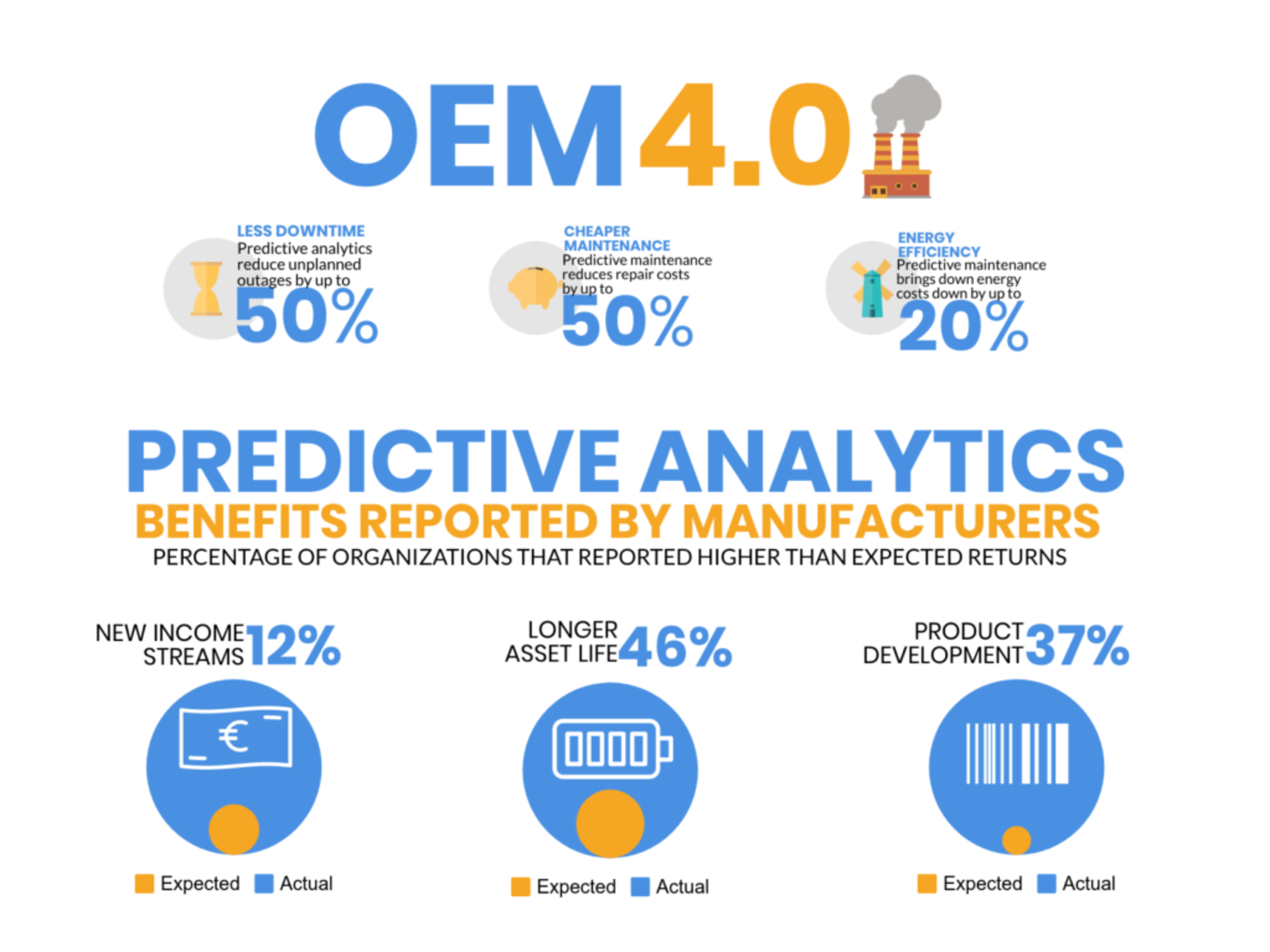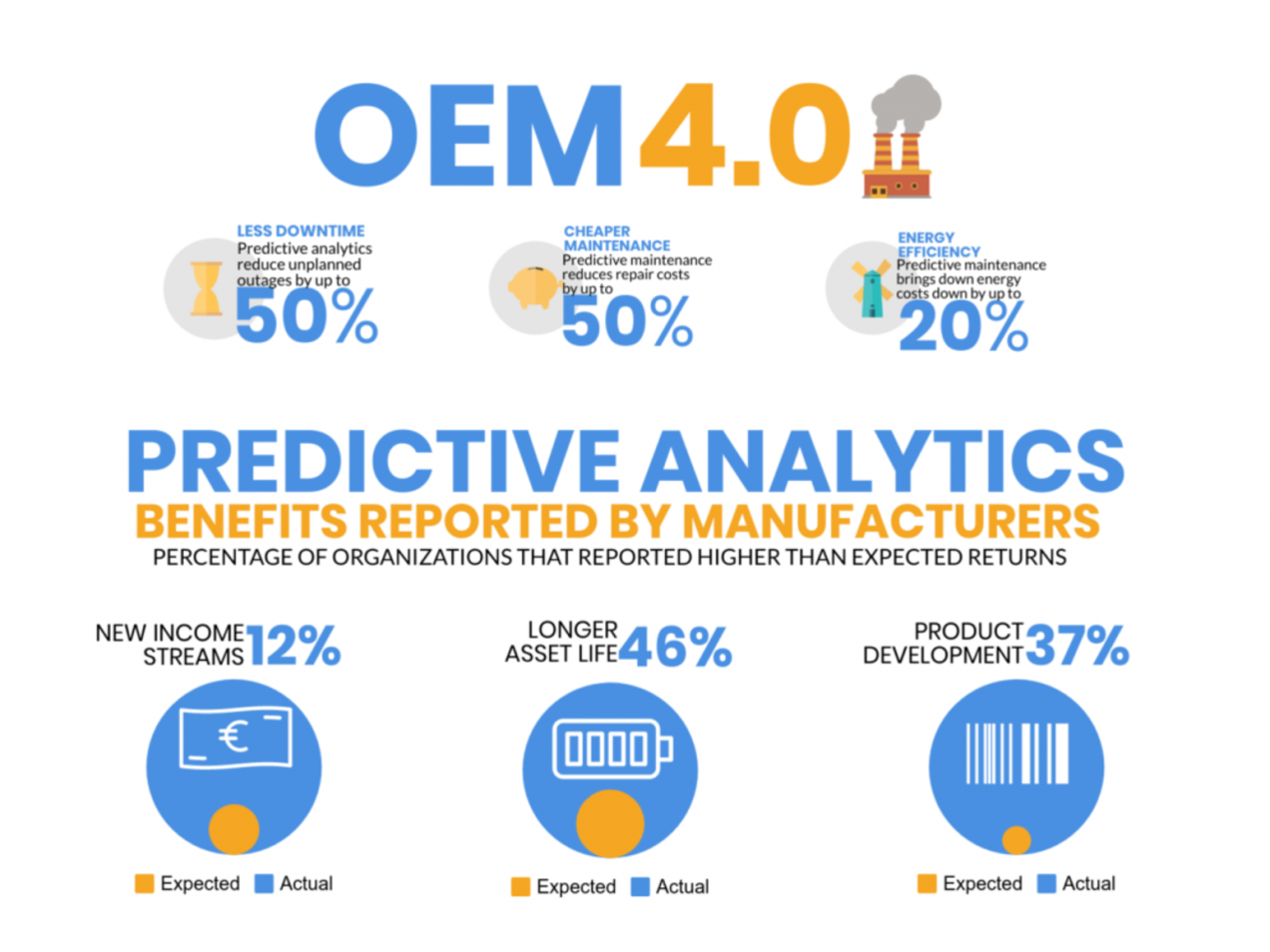 1 – Standardised Diagnostics and Solutions
There is no better promise an equipment manufacturer can make to their clients than the common-sense guarantee of low downtime, lower operational costs and longer product life. For clients, the purchase price of valves, for example, is only 20 percent of their total lifecycle cost. A huge 70 percent is spent on maintenance. Predictive analytics allow OEMs to help them cut down this cost by up to half. More importantly, for asset owners, the importance of the valve is not in its value, but in the role it plays in the production process.
No longer will the client just wait for the equipment to fail.
Asset Performance Management solutions help monitor condition of the equipment, using artificial intelligence to figure when repairs are needed, predict equipment failure, and diagnose the causes. That significantly lowers maintenance costs, cuts down unplanned downtime and accident risks, and enables longer lifecycles. According to a recent research, more than half of manufacturers using predictive analytics reported having higher uptime and lower risks, more than a third reported energy savings, and nearly half reported lower costs, increased equipment life and more customer satisfaction.
With little extra cost, equipment manufacturers can thus offer the added value of standardised diagnostics. No longer will the client wait for the equipment to fail, perform unnecessary inspections and then ask for repair or replacement, never being able to figure out what went wrong. OEMs can make the basic promise of saving money with better diagnostic features, setting them apart from their competitors without having to lower their price.
2 – New Income Streams
Longer equipment life and lower repair costs do not mean lower future income for equipment manufacturers. In fact, predictive analytics open doors for new and reliable revenue streams, making higher predictability a benefit for both the seller and the customer.
Forward thinking managers can already see the benefits of offering 'machines as a service.
Subscription-based revenue is the revenue model of the future, and there are countless examples of smart businesses who realised that early on. Adobe Photoshop is no longer bought on compact disks to use forever, but subscribed to for a monthly or yearly cost. A large number of people prefer not to own movies on DVD, but access them online as long as they pay for Netflix. Fender does not stop at selling a guitar, but also helps the buyer learn how to play it online for a monthly fee. But the pioneer of this revenue model is Rolls Royce. Confident of the benefits of predictive maintenance, the British company charges its engine clients for usage time, under its power-by-the-hour service. The way things are going, by 2025, a full ten percent of car sales in the US and Europe will be subscription based.
Forward thinking managers can already see the benefits of offering 'machines as a service'. Using Asset Performance Management applications, they do not have to rely on selling the equipment one time, but also sell services over a long period of time, especially when the manufacturing sector is hiring fewer and fewer maintenance staff to cut costs. The ability to monitor the use of the equipment can also see if safety or quality specifications and warranty conditions are being met. In the long run, stronger ties between OEMs and their clients lead to higher customer satisfaction and loyalty.
Equipment manufacturers no longer have to feel vulnerable to fluctuating demands and can rely on a stable source of revenue, and engage in a longer-term relationship with their customers instead of single product sales.
3 – Product Development and Enrichment
The equipment behaviour data gathered by OEMs would be far richer than the data gathered by a single organisation. It can provide important insights into how their equipment is used and what causes it to fail. These insights can be used to improve or enrich existing products or design new ones.
Big data insights can be used to improve existing products and design new ones.
The methods can range from simple analysis of failure data to more complicated A/B testing. Equipment managers can employ these methods to analyse how equipment performs and how it is being used, to determine what design changes made will improve their efficiency or running life, or even make them cheaper to produce.
This hidden potential is so remarkable that in a recent survey, although only one percent of manufacturers expected to improve product design using predictive analytics, a full 37 percent of them reported concrete improvement in product design that they had not foreseen before.
As industry leaders in the OEM sector look to incorporate predictive analytics in their business, the benefits are far more than the saving costs for their clients. Asset Performance Management can help equipment manufacturers provide better customer service, find sustainable and innovative new ways to make money, and use data to continuously improve their products – three simple and effective ways to outsmart their competitors.
To learn more how UReason can assist you in transforming your business, download our brochure.
APM Software Brochure
Download our brochure to learn how APM could improve your operations, learn how the maintenance landscape is changing and find out the unique ways UReason can help you.