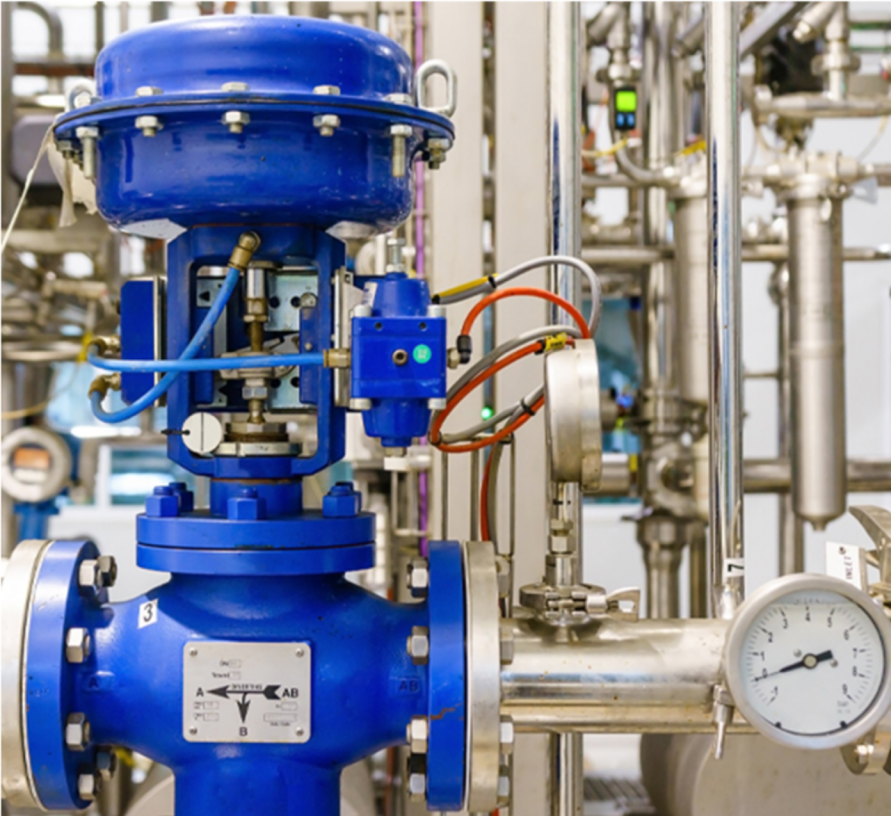 How well do you know your valves and
when to act

?
Control Valves are critical components in the process industry. And yet, these are often not monitored. With a scarcity of trained engineers, this becomes even more critical.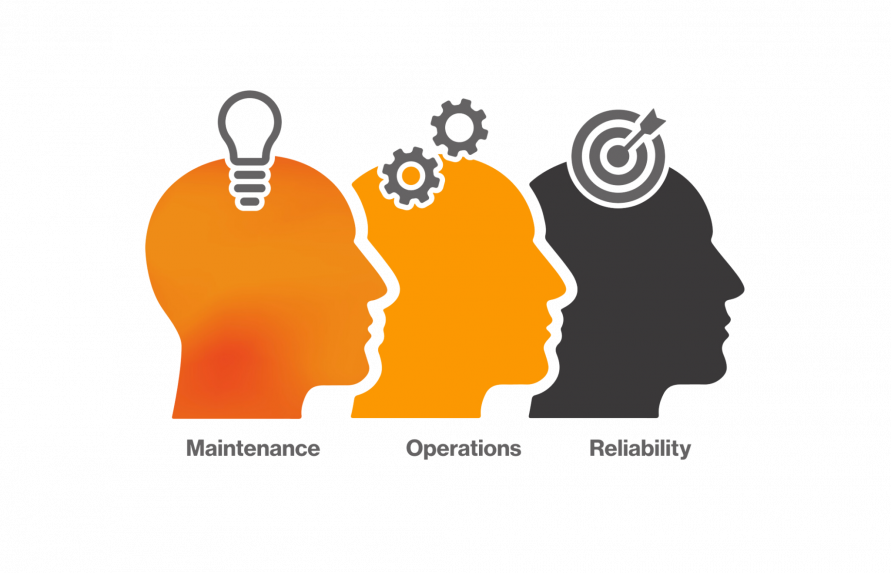 Managing your valves will create
high value​
For Maintenance, Reliability and Operations, at least 5 sources of value are created by managing your control valves. The easy-to-use Valve App provides more actionable insights and benchmarking for more process control.
Reduce Energy / Product Losses
Accurate Investment Planning
Maintenance Planning for Shutdowns
Reduce on-site Inspections
Lower Risks due to early warnings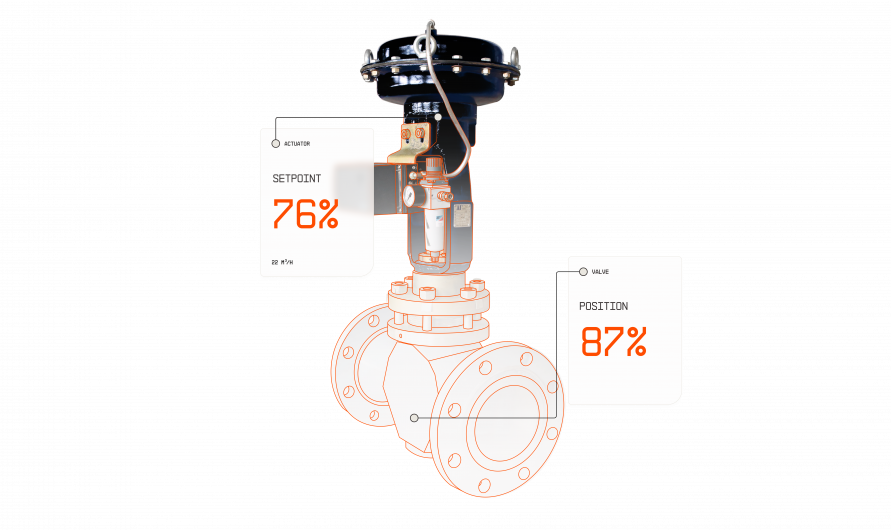 Valve App for more
process control
The easy-to-use Valve App provides more actionable insights and benchmarking for more process control.
Plug and Play
Supports Air/Electrical Actuators
Provides Actionable insights​
Generates Work Orders/Inspection Reports
Benchmarks Valve Performance
All about the Control Valve App in one brochure
Get to know our intelligent but easy solution that improves your valve maintenance and operations processes.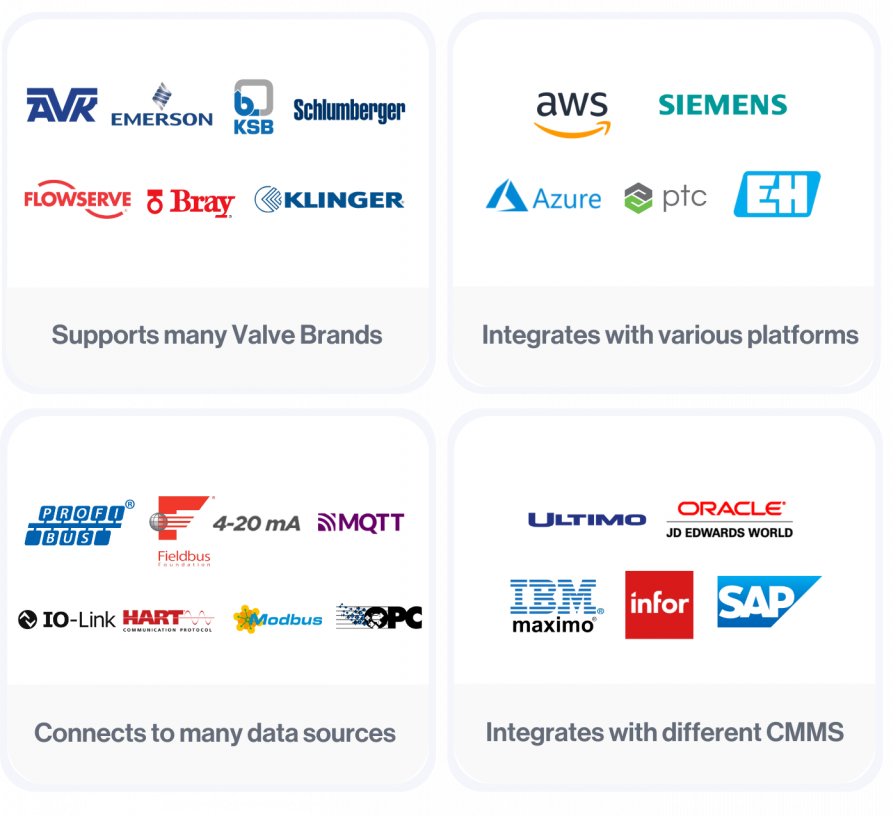 The Valve App is
easy to integrate
The UReason Valve supports many valve brands and is brand agnostic. It is easy to integrate in many data platforms and CMMS and connects to many data sources.
The Control Valve App offers more (continuous) insights, asset-based benchmarking and is integrated into a CMMS as opposed to traditional process control systems and loop tuning solutions.
Asset management perspective:
Determining the Remaining Useful Life of the asset (valve and actuator) resulting into superior maintenance and CAPEX planning.
Continuous insights in the asset's health providing a fast response time and ability to move from reactive to proactive maintenance strategies.
An automatic connection to CMMS creating automated work processes.
Reliability management perspective:
Multiple detailed (graphical) insights on valve behavior which provides deep understanding.
Models for root-cause analysis of the dysfunctions.
Benchmarking over the total asset base.
Operations perspective:
Additional insights for product/energy loss.
Facts About Control Valve App
75%
reduction
of maintenance costs on control valves
Get Started with the Valve App
Fill in the form below to get a free example report and to learn more about the options.
Valve App Basic
Based on batch data and automated monthly reporting (pdf), starts at
Includes:
Valve Health Status
Failure Detection
Benchmarking of your assets
Valve App Premium
Based on historical or streaming data (cloud) and integration in CMMS/ERP systems (REST API), starts at
Includes:
All basic features
Streaming Data Connection
Automated Work-Orders
Live Dashboards
Valve App Enterprise
Based on streaming data and integration in CMMS/ERP systems connect your control valves with other assets and processes
Options:
On edge, on premise or on cloud
Combinations of equipment
Intergration with other systems
Additional Sensors
Monthly reviews with subject matter experts
Compare plans
Choose one of the three options and find what fits for you.
Control Valve App
Valve App Basic
Valve App Premium
Valve App Enterprise
Remaining Useful Lifetime
Frequently Asked Questions about the Valve App
What brand and type of valves and actuators are supported?
UReason supports all brands: air, electrical and electro-hydraulic actuators in combination with globe, needle, and gate valves. We also support most butterfly valves.
What data is needed for the Valve App?
Setpoint and Output (Valve position) of the controller of the control valves. If position feedback is not available, additional data on controlled measurement flow/level/pressure/temperature and environment is needed​.
What meta data of the valves/actuators is needed?
Actuator and valve  (model and make) and installation dates. If not available, we need to create an asset inventory. ​
How much data do I need to provide​?
For the basic version, you can provide up to one month of data. We recommend a minimum of one week of continuous data​.
How do you generate a work-order in the CMMS?
The valve app provides a REST Server that will list/provide the recommendations/orders for your assets. You can easily integrate this with your CMMS – IFS/Ultimo/SAP/MAXIMO/Upkeep.  All have a capability to interface to our REST Server and have REST-APIs to generate work-orders for the functional items. We can also connect with most of the own build CMMS,  please contact us for the details.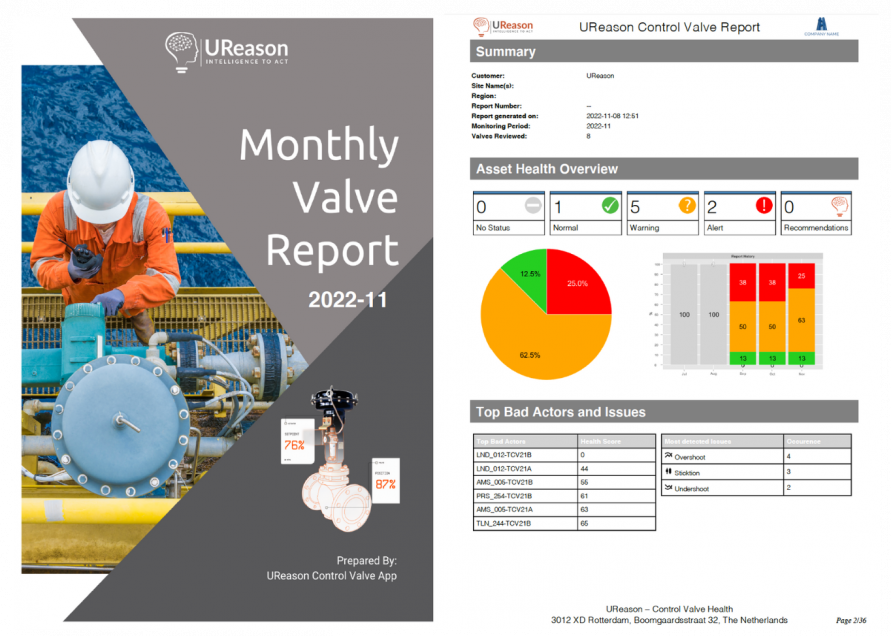 Get started with our
Valve App

!
Discover our Valve App output in the example Valve Report. Get yours by filling in the form below.
Request an Example Report
We will get back to you as soon as possible after receiving your request.